To celebrate the new hybrid or remote work environment, People Ops decided to organize an escape room experience for employees local to the New York area.
However, when we arrived at the escape room location, the People Ops and management team were not present.
We thought we were there to exchange Secret Santa gift ideas, but we were wrong.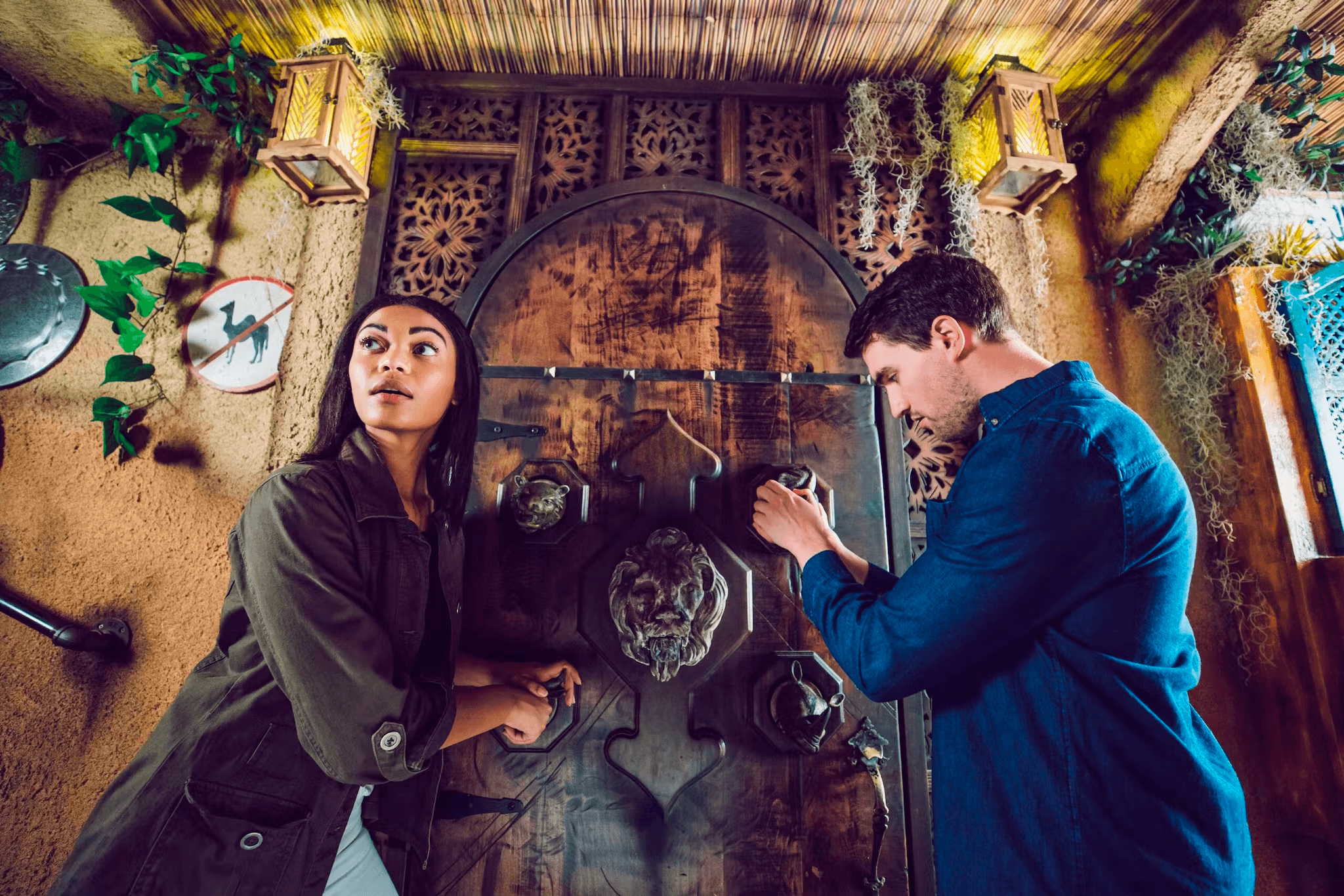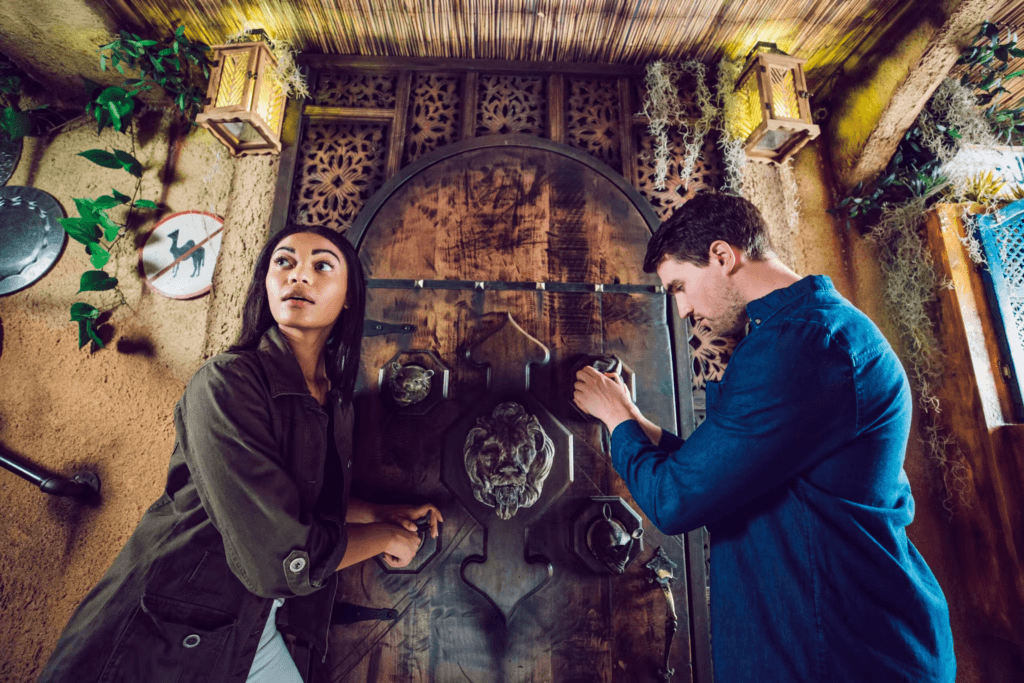 We were enlightened to the fact that the object of this escape room was to discover who our Secret Santa was, based on what we'd received for a gift.
Hosting holiday-themed office parties is a great way to help employees get social, and it's never a bad idea to help them with Secret Santa gift basket ideas and Christmas gift ideas.
Perfect Secret Santa Gift Ideas for Coworkers:
Price- $14.61
This cozy, colorful ceramic mug will keep their coffee, tea, or cocoa nice and warm throughout the day. The unique design is sure to make them smile each time they take a sip. A mug is always a practical gift that anyone can enjoy.
Price- $22.20
Help them relax after a long day with a pair of plush, comfy slippers. Slide into the softness and feel the stress melt away. Slippers make the perfect gift to pamper someone's feet during the cold winter months.
Price- $34.15
Staying hydrated is important all year round. This trendy water bottle will motivate them to drink more water each day. It's durable, leakproof, and the right size for carrying anywhere. A water bottle is a thoughtful gift that supports their health.
Price- $55.99
Wake up to the sweet smell of homemade waffles with this top-rated waffle maker. Quickly whip up a delicious, fluffy breakfast in minutes. A waffle maker is a great gift to make morning meals a real treat for the whole family.
Price- $11.99
Help them find calm and relaxation with this set of popular essential oils. Add a few soothing drops to the diffuser or mix into a relaxing bath. Essential oils make a wonderful gift to promote wellness and self-care.
Tea Infuser Cup
Enjoy loose-leaf tea anytime, anywhere, with this clever tea infuser cup. Simply add tea leaves and hot water for a refreshing infusion of flavor. This portable cup makes brewing tea easy, no extras are needed.
Price- $4.68
Give the gift of soft, supple lips with this deeply moisturizing overnight lip mask. Formulated with nourishing oils, butter, and waxes, it delivers intense hydration while you sleep. Lips will look plump and feel smooth all day long.
Price- $5.99
Bring family and friends together for hours of fun with this entertaining card game. Easy to learn but endlessly engaging, it's sure to spark laughter and friendly competition. Card games make the perfect gift for creating meaningful moments together.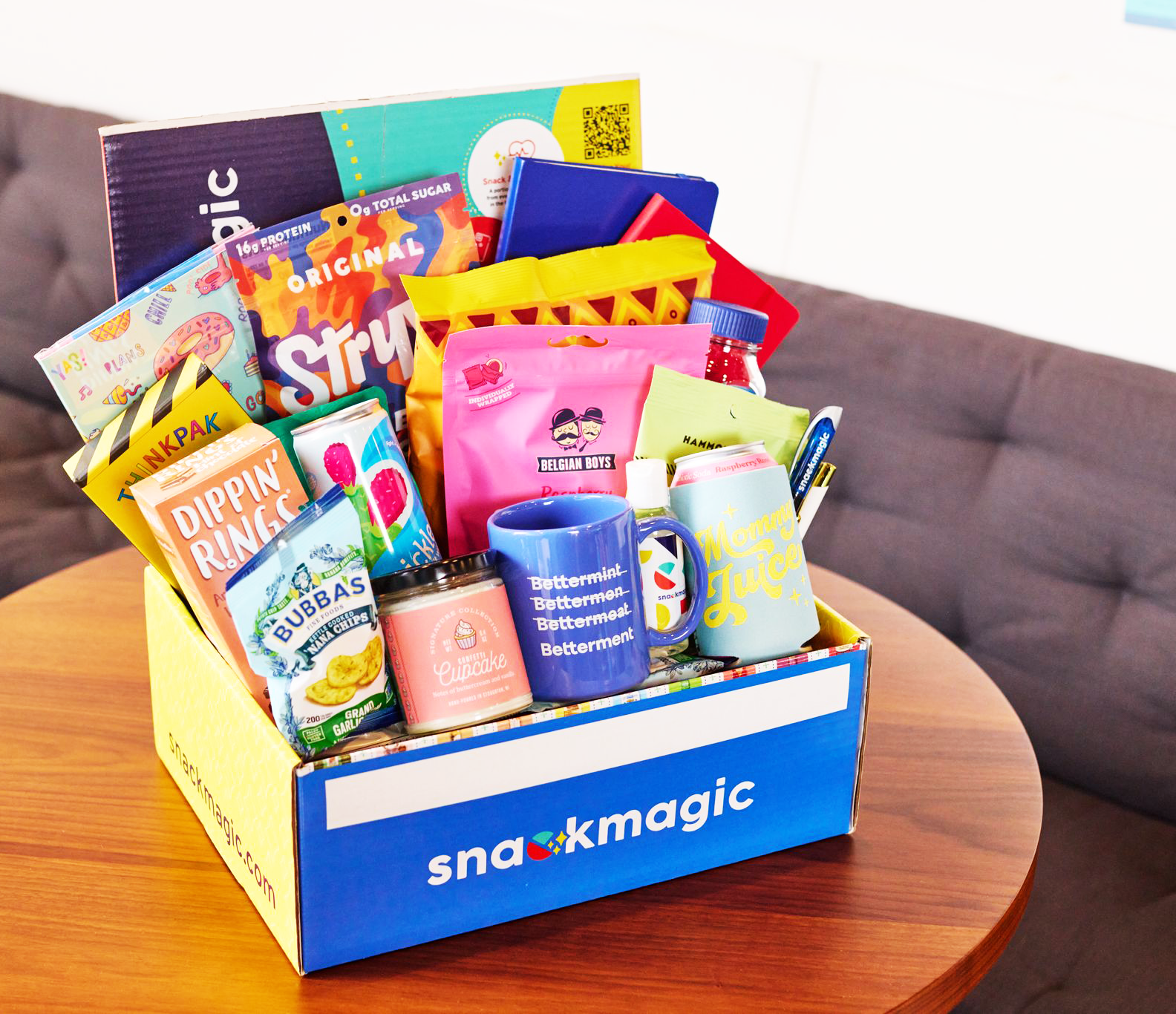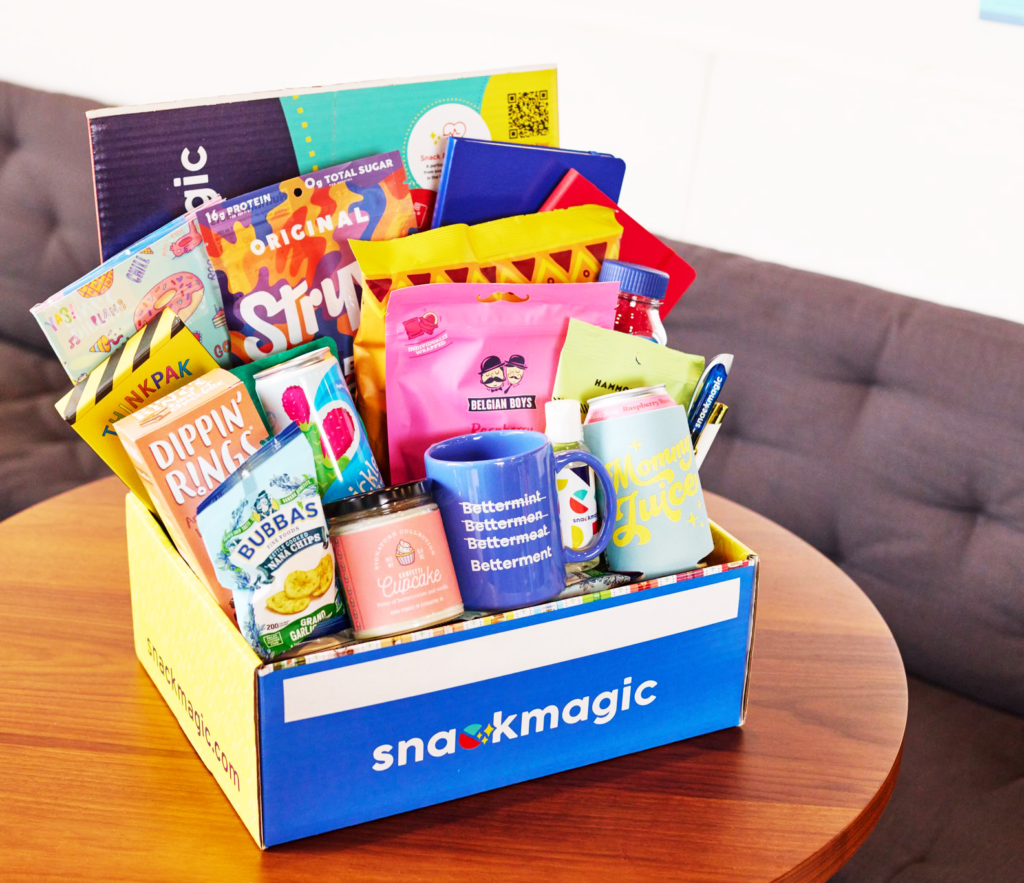 A curated snack box is a unique Secret Santa gift because it allows the giftee to choose the snack box they want! Not only is it exciting to build your snack box, but the brands available on SnackMagic are endless, ranging from coffee and candy, making it one of the most perfect gifts for a Secret Santa exchange.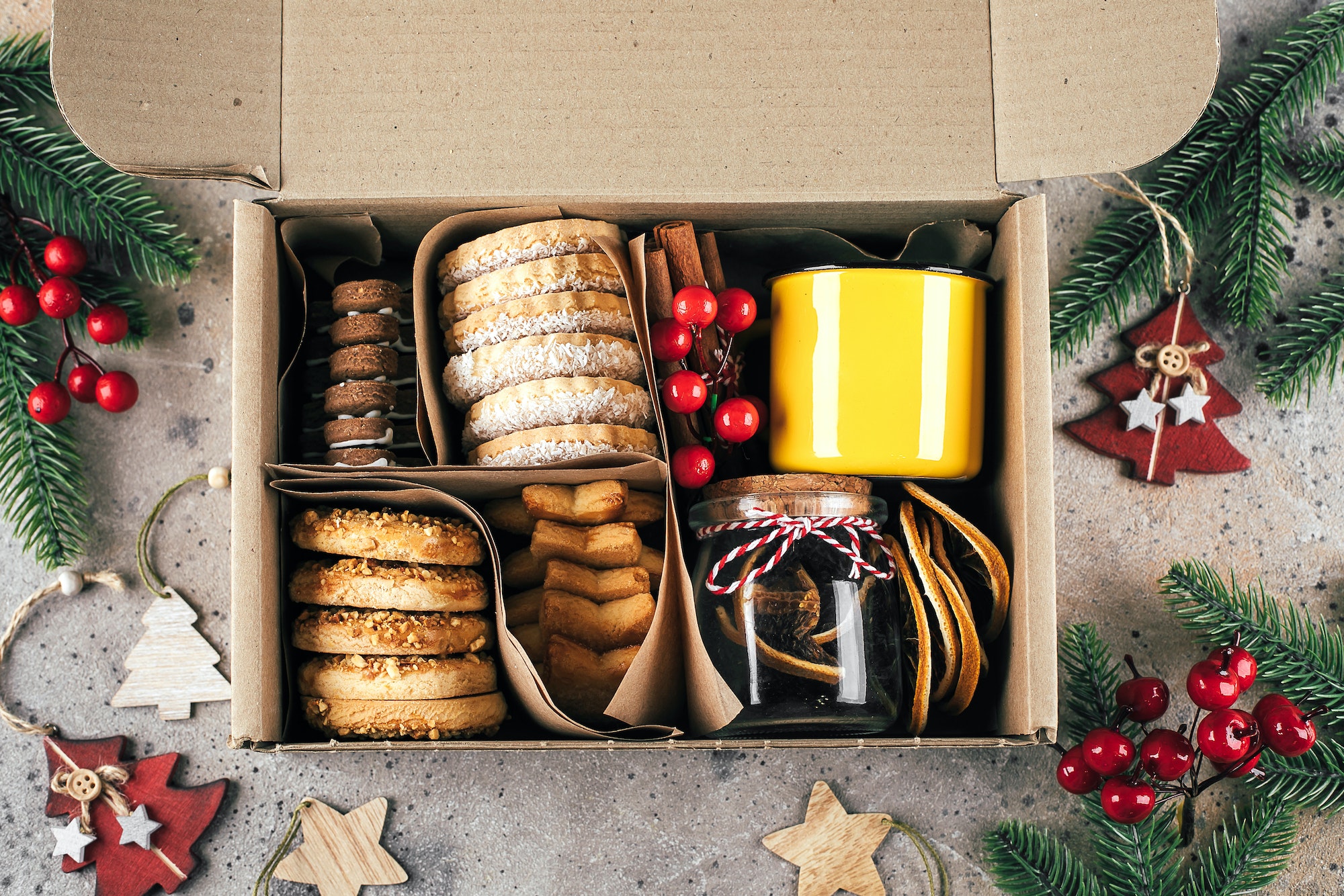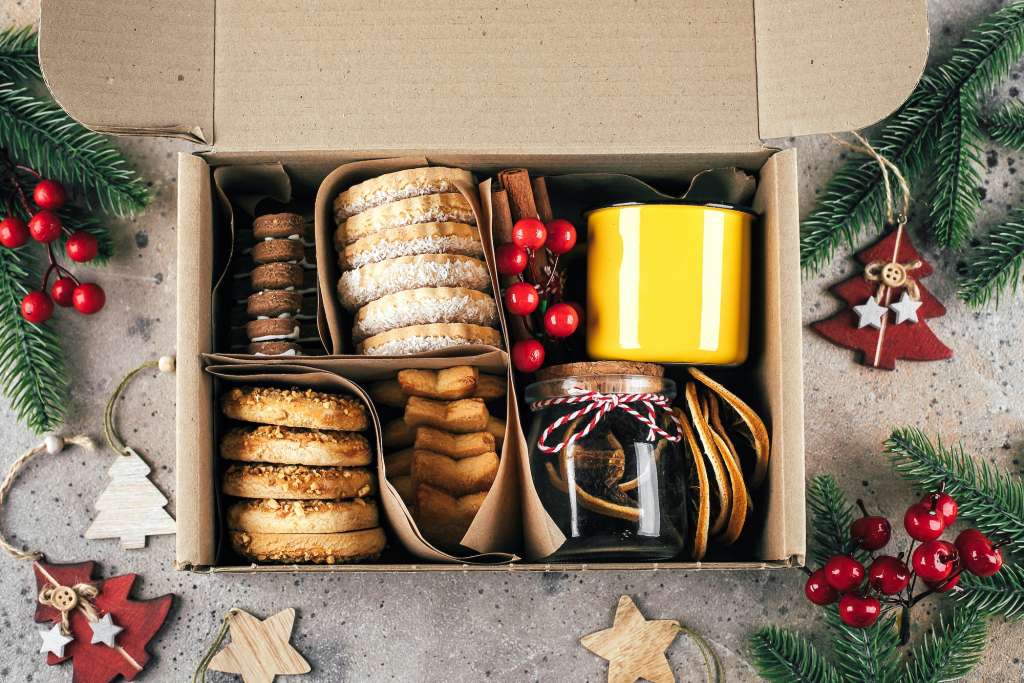 Cookies are wonderful for Christmas gifts for coworkers. These delicious caramel cookies are a satisfying treat, or you can choose from the wide variety available on Superior Dishes! They're all delicious!
Price- $51
Yes, you read that right. There's no better way to celebrate the holiday season than to work shots into your work Secret Santa gift ideas. Not only is this an incredibly unique gift, but it allows you to have your cookie and drink it too!
Price- $99.99
AirPods earphones case on a bright green background
Airpods are a great Secret Santa Gift for recipients. It doesn't have to be this brand, but purchasing wireless earbuds for your coworkers is a fantastic way to help them listen to their favorite podcasts or music anytime. Choose a reputable but relatively inexpensive brand, and watch their eyes light up upon opening!
Price- $193.78
This excellent canvas backpack is the best gift idea for anyone facing a morning commute, whether by car, train, bus, bike, or foot. It's roomy and easy to personalize and purchase in bulk, which is exceptional for corporate Secret Santa, which has many gifts to give!
Funny Secret Santa Gifts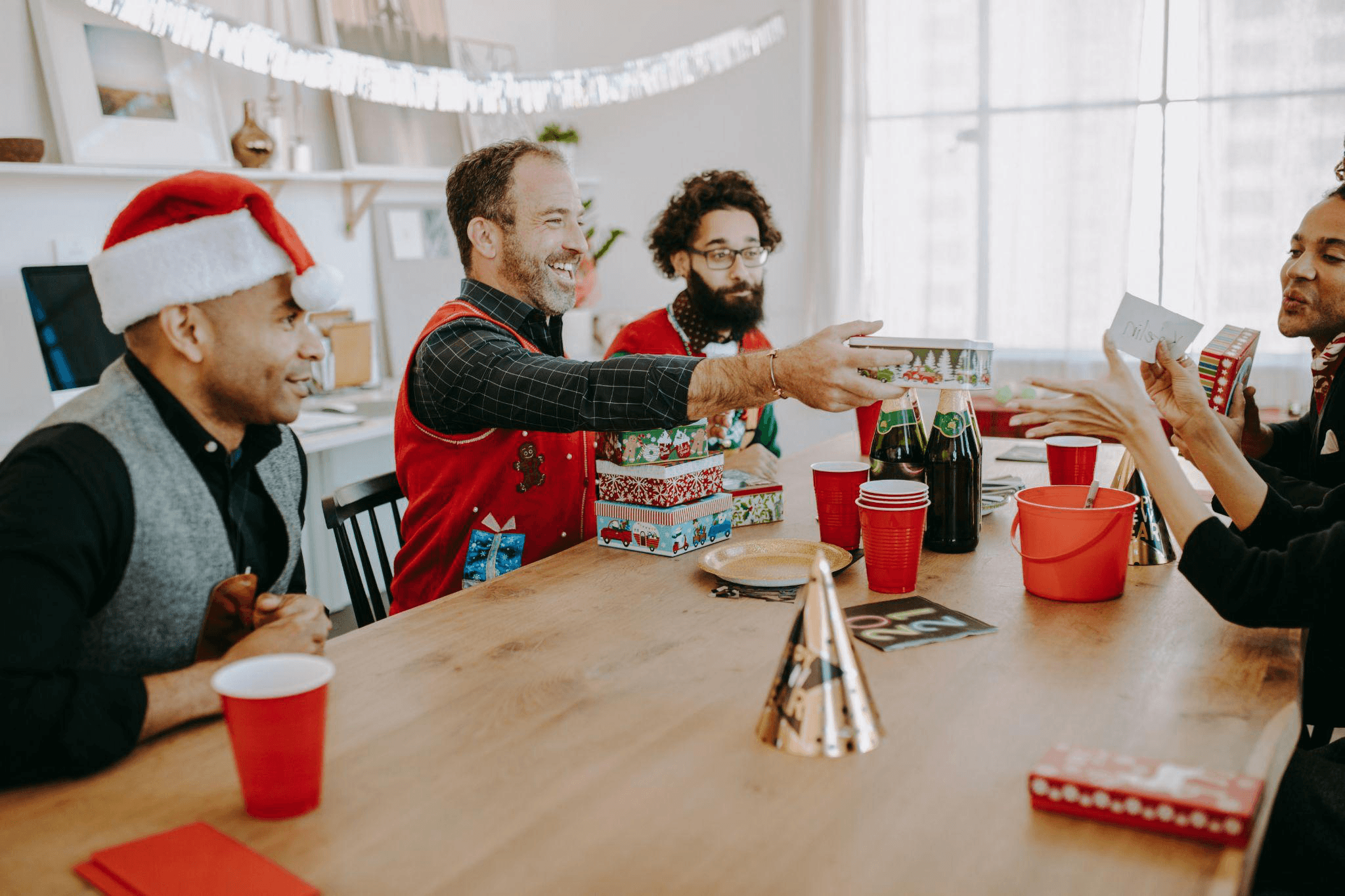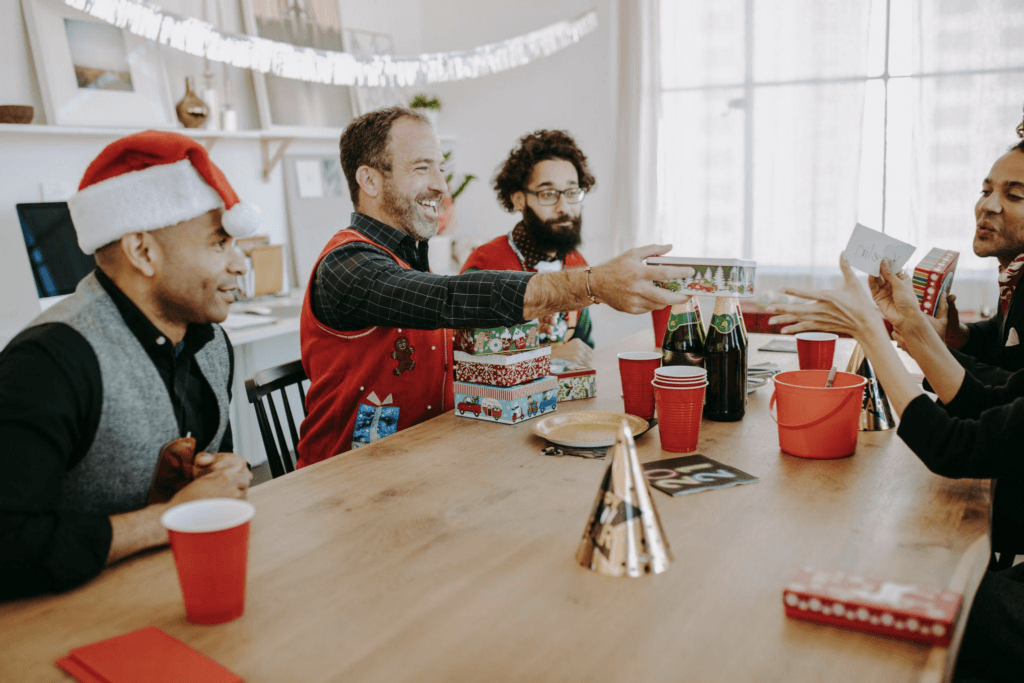 On occasion, purchasing swag gifts for Christmas may leave you with wiggle room to incorporate some humor. Perhaps you're friends with your Secret Santa outside of work, and you feel comfortable enough to give an inside joke or a bit more casual. Either way, you're sure to find something in these funny Secret Santa gifts for friends!
Food Blanket
If there's one thing that coworkers love to do, it's go out to eat. Maybe you and your Secret Santa have a favorite food, or whenever you share an out-of-office lunch, it's at the same Mexican restaurant or pizza joint. No matter your cuisine of choice, a food-themed blanket will keep your Secret Santa warm while remaining a funny inside joke.
Humorous Candle
Everyone loves a candle, and this one tops the list of funny Secret Santa gift ideas. It's witty, and you can choose from various scents, depending on what your work best friend prefers. Also, purchasing this candle means supporting a small, hand-made business, which should be what the season is all about!
Price- $16.50
This plush toy looks just like a plate of mouthwatering fried chicken! The soft fabric and stitching details make it look good enough to eat. Dogs will find it irresistible to play with and carry around. The included squeaker adds to the fun, making a loud noise for indoor playtime. This silly squeaky toy provides mental stimulation for your pup and will quickly become their new favorite fetch and tug toy.
When it comes to coming up with funny Secret Santa ideas, it's critical to make sure that you keep them appropriate for the workplace, even if you're good friends with your coworkers. An office holiday party is still a professional event, no matter how close you are outside of work, so feel free to get funny but don't go overboard!
Secret Santa Gift Box for Him
If you're on the hunt for guy gift exchange ideas for Secret Santa gift ideas for guys, we've got some ideas that could be helpful.
Price- $50
This football fan box is a fantastic Secret Santa gift idea for a football-crazed colleague, whether he's the co-worker you're forced to work with or your work bestie.
Price- $50
If your male giftee isn't a football fan, maybe he loves BBQ! Fire up the grill (yes, you can grill in the winter), and get the tongs ready because the BBQ box has everything you need to bring the taste of summer back long before the summer solstice rolls around!
Shopping for Secret Santa gag gifts for guys can swiftly cross the line into inappropriate for work, but this football-themed box, or one of the many other boxes from SnackMagic, will work wonderfully! If you're still undecided, check out this list!
Secret Santa Gift Ideas for Her
Secret Santa gift ideas for her can be challenging, but you cannot go wrong with food! If food isn't her thing, you can find some fantastic holiday gift ideas on this comprehensive list that will bring a little cheer to her holiday season.
Snacks Treasure Chest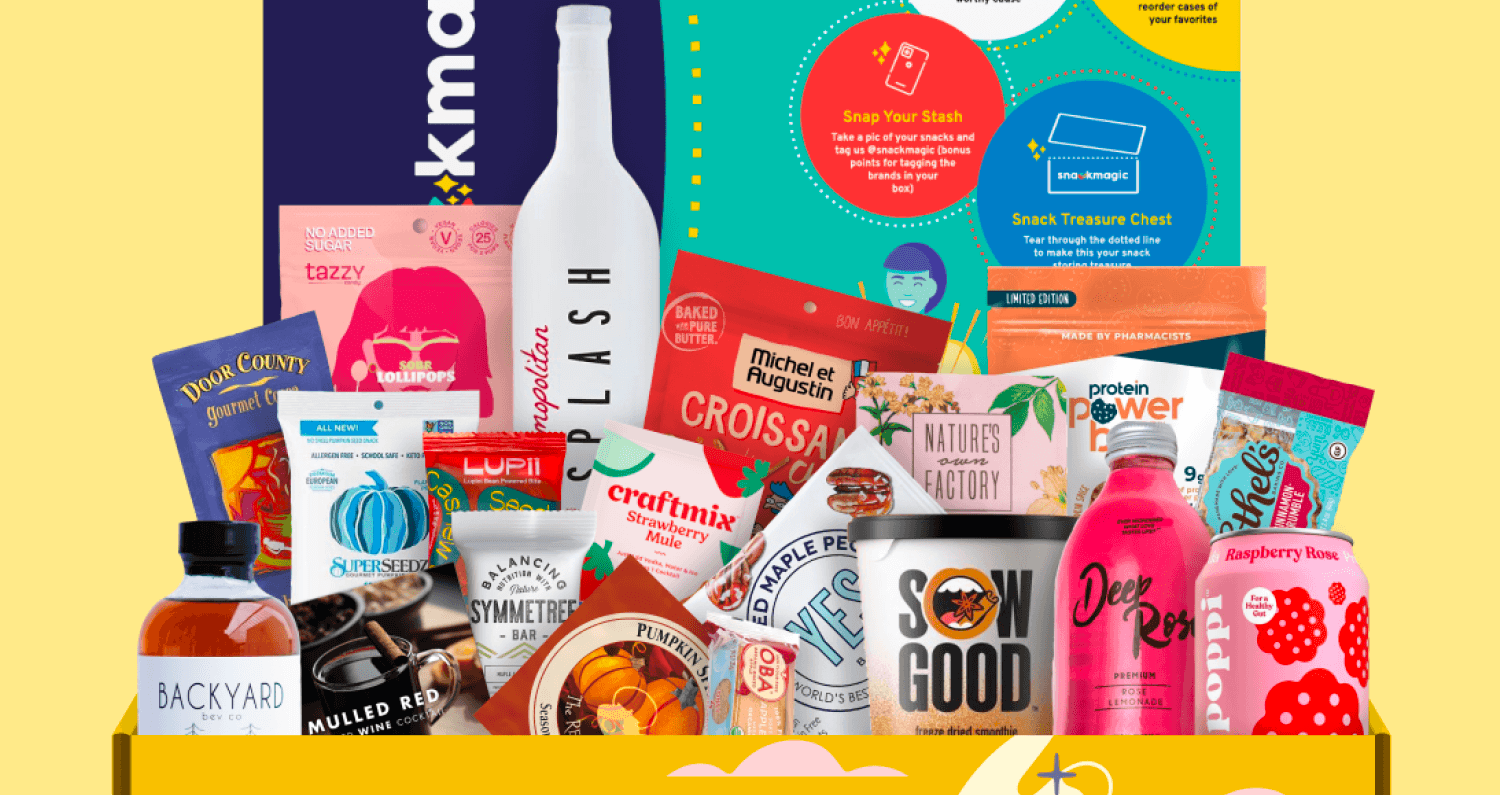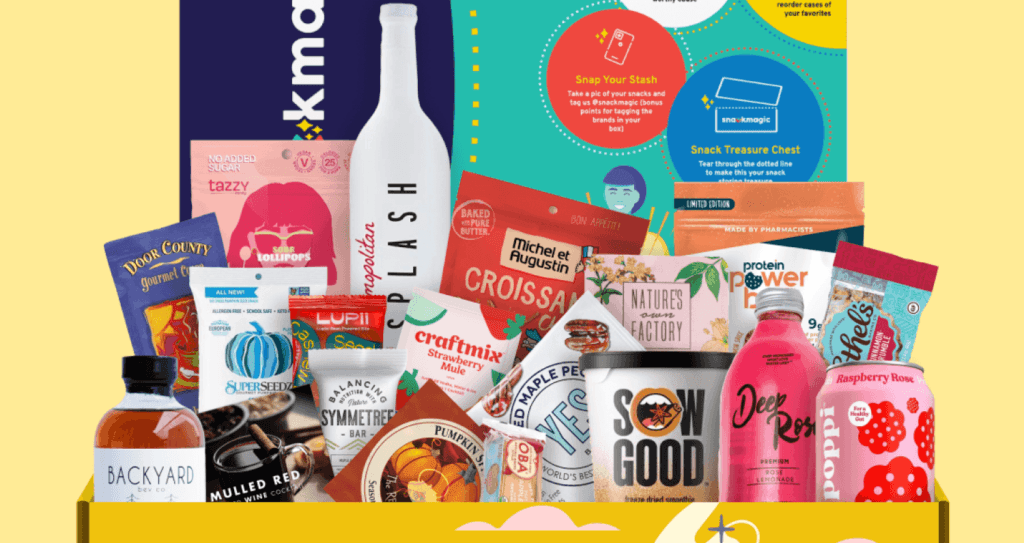 Surprise your coworker with a trove of savory, sweet, and healthy treats. This personalized wooden chest engraved with her name overflows with tasty snacks. Fill with gourmet popcorn, artisanal chocolates, pretzels, and dried fruits – customize to her tastes. The reusable chest and mix of snacks make a gift to enjoy. Watch her smile finding the chest full of delicious goodies! This Secret Santa gift is sure to satisfy her cravings.
Price- $50
The Pumpkin Spice Up Your Life Box from SnackMagic is sure to please your female Secret Santa. While it doesn't fall into the gifts under $10 for her category, it's full of everything she wants to settle onto the couch after a long office work party. You'll bring new life to the Secret Santa gift exchange by providing such an incredible gift!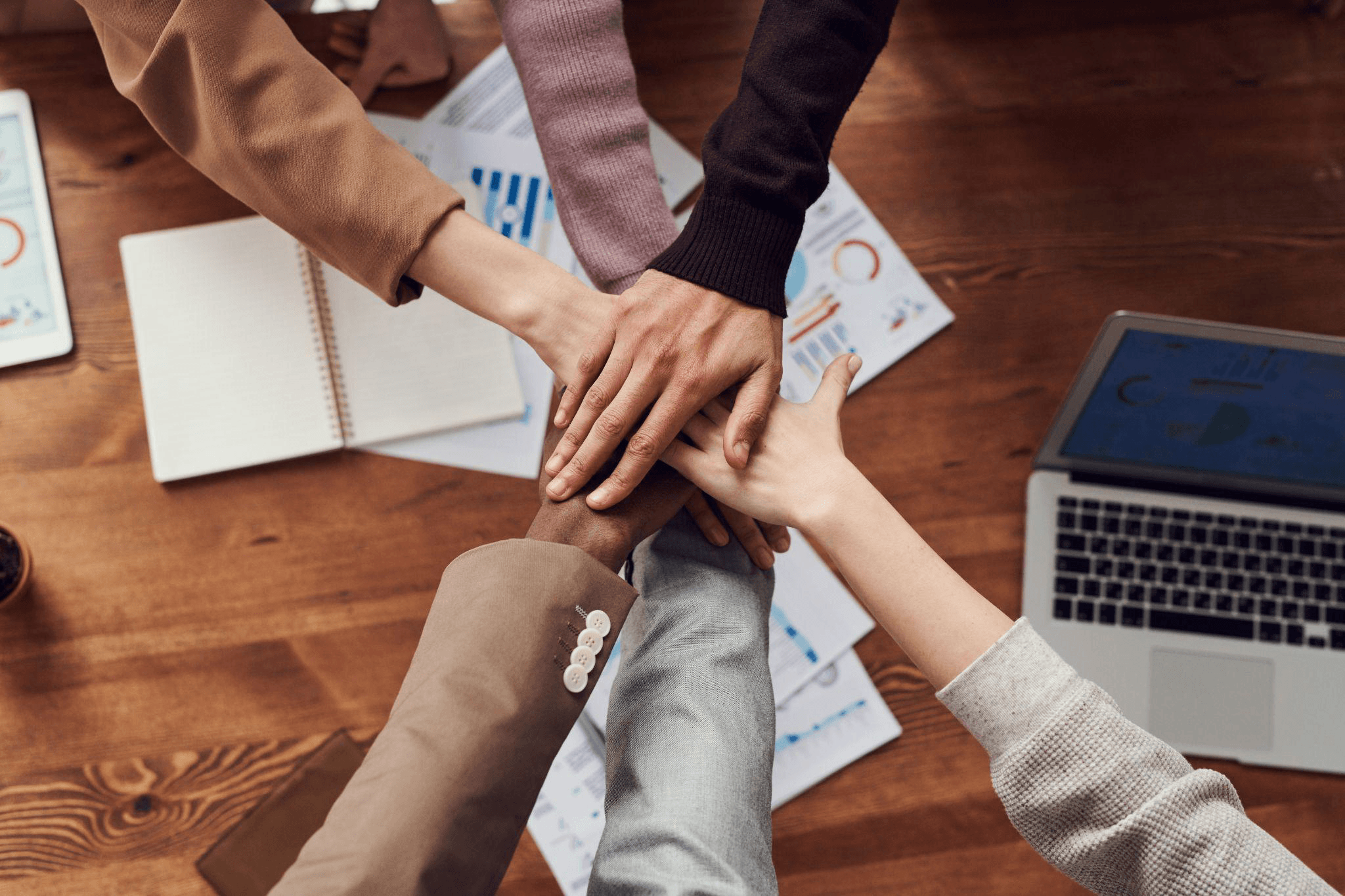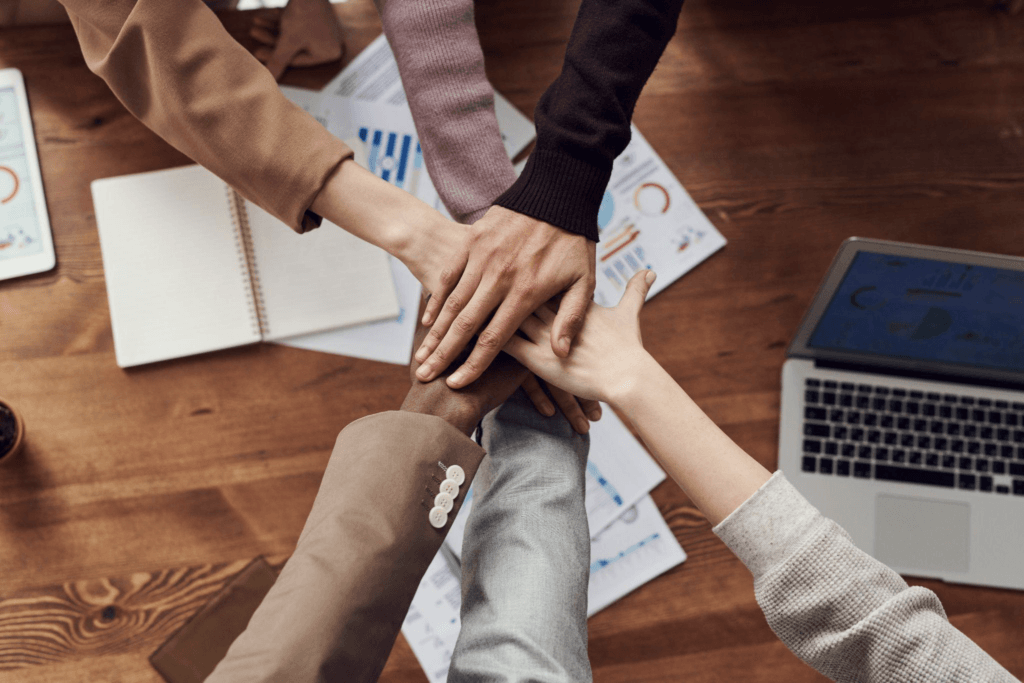 Secret Santa and Team-Building Skills
After 5 hours of following ambiguous clues, everyone found out who their Secret Santa was, and Christmas gifts were exchanged. Perhaps locking everyone in a room wasn't the best team-building exercise, but at least there were plenty of snacks and very creative and awesome Secret Santa gifts. People Ops did eventually let everyone out of the escape room unscathed.
SwagMagic – The Secret To Amazing Secret Santa Gifts for Coworkers
Searching for the perfect Secret Santa gift that will wow your coworker or friend? Look no further than SwagMagic! Our online gifting platform takes the stress out of Secret Santa and helps you send a personalized gift they'll love.
With SwagMagic, you can easily:
Create a custom Secret Santa gift box with their favorite items. Browse thousands of unique swag items like stylish apparel, fun office accessories, gourmet snacks, and more.
Make it meaningful by adding a heartfelt note or video message. Our branding options let you make the unboxing experience extra personal.
Ship the mystery gift box directly to them. No need to lug gifts around – we'll handle global delivery right to their door.
Surprising someone with a thoughtful Secret Santa gift has never been simpler. SwagMagic handles everything from curating gift ideas to custom packaging to doorstep delivery.
Gift shopping made easy. This year, let SwagMagic be your Secret Santa! Book a call now to start crafting personalized gifts that are sure to spread holiday cheer.