Corporate swag is a term used for promotional items that can be gifted to your employees, clients customers, and business partners to say thanks and appreciate them.
Corporate swag is not just a channel of advertisement or a tool to promote the brand but also keeps employees motivated and makes them feel appreciated.
Company swag items, often known as business swag, are packaged gifts of different kinds that are branded with the company's name and logo.
Corporate branded swag carries the logo or slogan of a particular brand and does an excellent job of advertising it with ease.
Corporate swag can be given to current employees or clients. It can also be used to promote the brand on a larger scale or can be used to boost employees' morale and make them feel valued. These products should be something useful, inspirational, and innovative all at the same time.
Curated corporate swag boxes may include several small items such as branded swag or you could also give out a basket of scrumptious snacks with customized packaging.
Here is a list of creative and most loved corporate swag ideas:
1. Custom Tumblers
Nobody's morning really starts without a cup of coffee but that Big ol' Cup-o-Joe is difficult to grab when you are always on the run. Tumblers are an excellent solution to this problem. A tumbler is practically used by everyone and is something that can be easily customized to carry your brand name and your logo. Tumblers are a popular product and have gained recognition as popular corporate swag. The brand Yeti is at the forefront of corporate swag – the majority of companies get Yetis for their quality and brand recognition. A tumbler included in a welcome kit for employees is a great way to welcome your new team onboard. No matter the price, tumblers as corporate swag will give your employees the opportunity to enjoy their coffee no matter where they are.
2. Travel Bags
A travel bag is yet another excellent travel accessory used as corporate swag. It's one of the most commonly used products. But, a high-quality bag made of leather or canvas will be more often used vs. a cheaper material. A travel bag is a very useful item but at the same time, it can be a style statement too. Get some cool travel bags and print your logos on them; gift them as corporate swag and you will surely benefit a lot from this form of advertisement.
3. Wireless Charging Stations
These days, the most useful swag that anyone would be really grateful to receive is wireless charging for their devices. It's not uncommon to be in need of a charger in every room and especially when we travel. Get affordable wireless charging stations made with your logo and brand name and use them as corporate swag. These wireless charging stations will be greatly appreciated by anyone who receives them for free as everyone is surrounded by gadgets, be it their phones, laptops, or tablets.
4. Bluetooth Speakers
Bluetooth speakers are another tech item that is very hot right now. This little gadget allows you to play music absolutely anywhere as long as you have your phone with you. This is perfect for poolside, backyard parties or camping. Get custom-made Bluetooth speakers with your brand logo and name on them and distribute these as corporate swag to your employees as well as your clients.
5. Apparels
You can say t-shirts, zip-ups, and hoodies are the most popular swag items companies offer their employees. If you are a small business and not looking to invest a lot of money in corporate swag you can get simple cotton T-shirts printed with your brand name and logo and distribute them to your employees and your clients. T-shirts make good corporate swag provided they are of good quality fabric. If you are a larger company and are willing to invest more money in your corporate swag, you can look at vests, rain jackets or hoodies.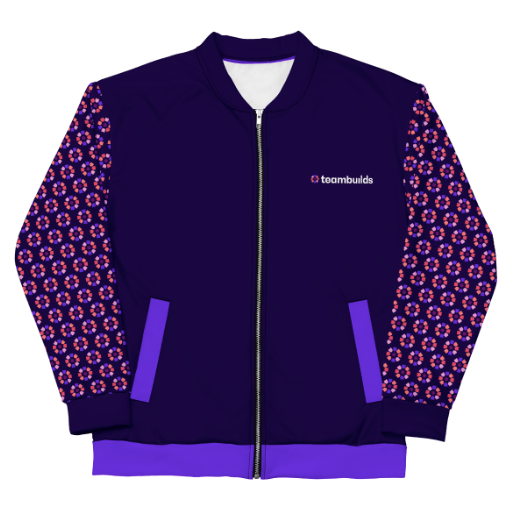 6. Unique Snacks Box
Snacks are enjoyed by everyone all over the world. Get a box of snack items curated by a theme and have the packaging include your brand name and your logo. The snack boxes will be appreciated by your employees and your customers and will be a good branded swag idea. No one will hate getting snacks, trust us.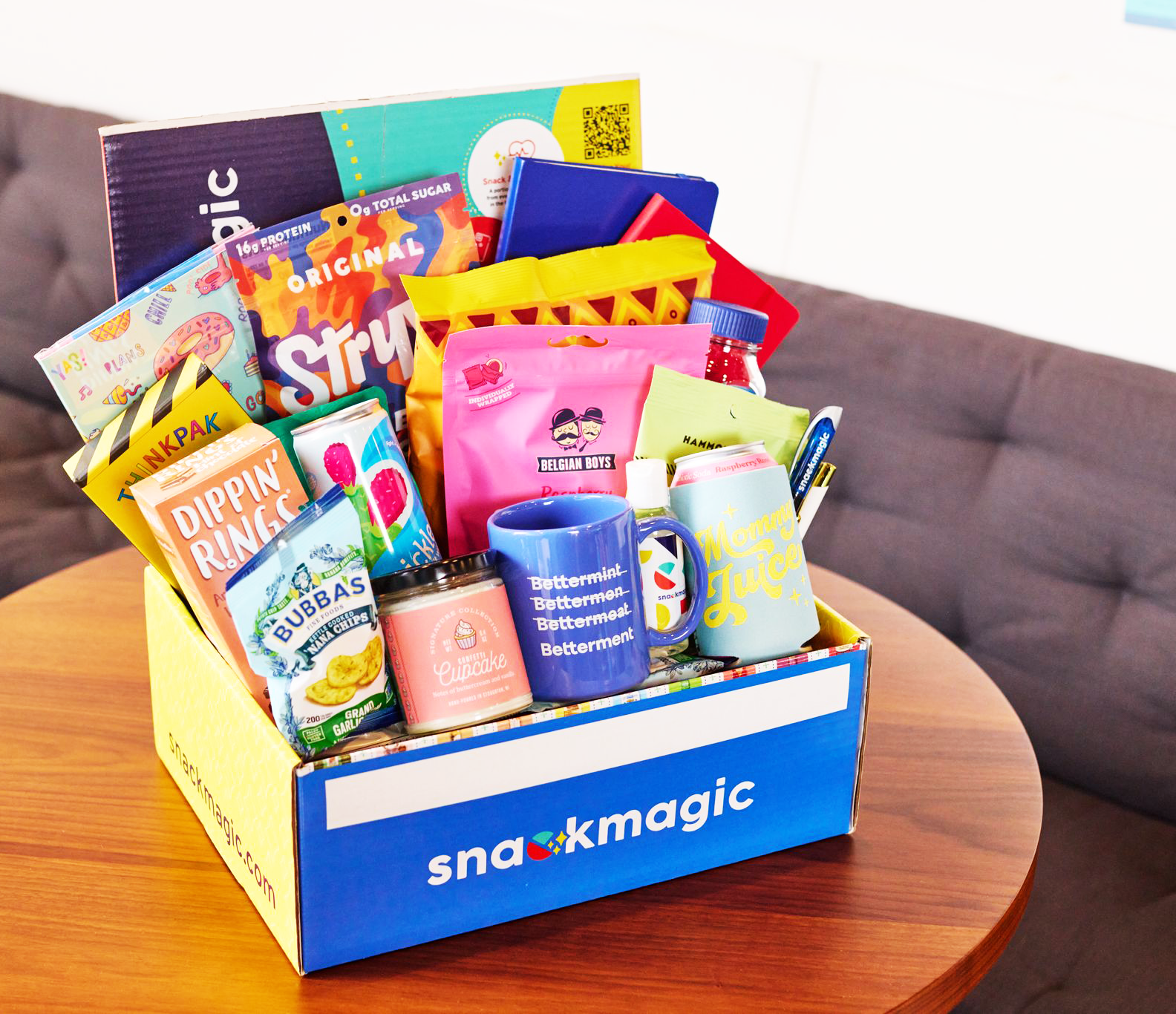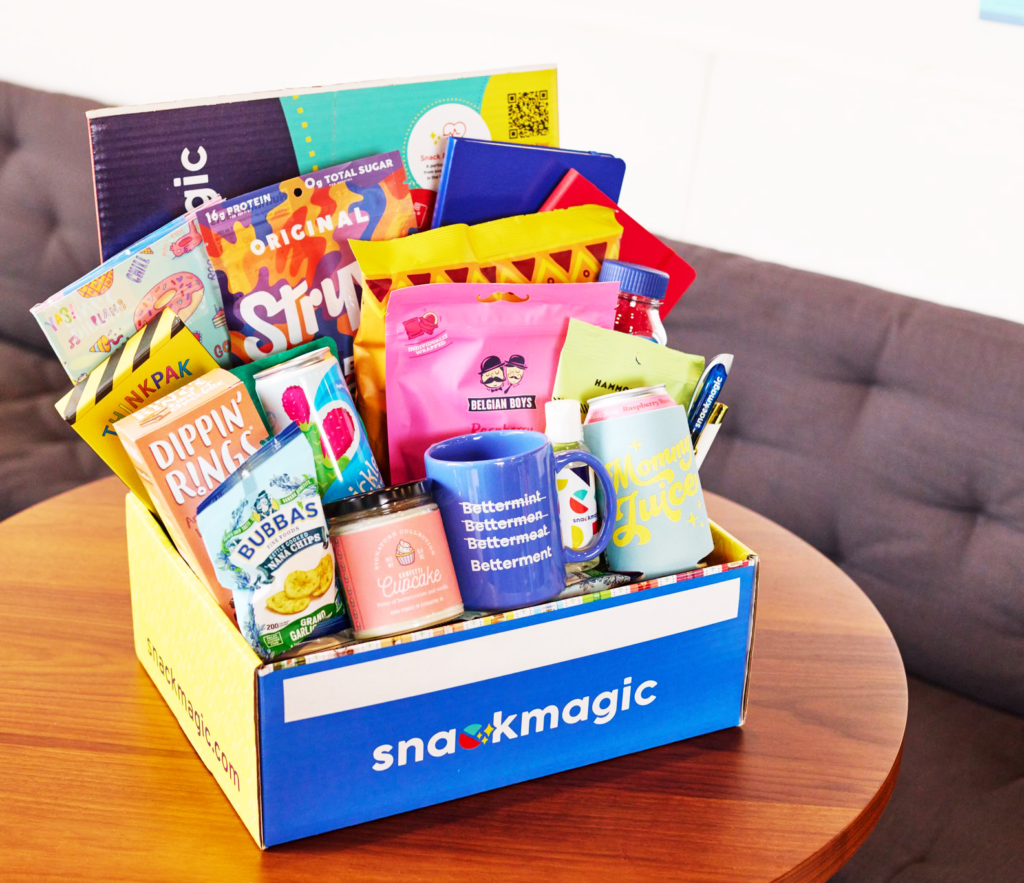 7. Yoga Mats
The idea of implementing a healthy lifestyle is very trendy post-pandemic. Using yoga mats as corporate swag will speak volumes about your company culture. Hand out printed yoga mats to your customers and your employees, suggesting they maintain a healthy lifestyle. Gifting yoga mats to your employees will be a useful gift and will convey your subtle message of promoting a healthy lifestyle.
8. Keyboard Vacuum Cleaner
Dust and crumbs are an annoying yet ever-existent and unwelcome companion on all of our desks. Give your employees a tiny handheld vacuum that can be used to keep dust away from their keyboards and workstations. This tiny wonder will amaze your employees and your clients with its technology and will help your employees keep their desks spick and span. It's an innovative idea that will be appreciated as corporate swag. All you need to do is get them printed with your brand name and logo and they'll be ready to be gifted as corporate swag.
9. Ring Light
Remote work has become a household term, especially in recent years. Every employed person has had the experience of attending zoom calls and participating in several work meetings conducted online. Looking presentable while you're working from the comfort of your home becomes a little difficult when you don't have proper lighting. The webcams in most laptops are not high-resolution cameras and they tend to work poorly in bad lighting. A ring light can come in handy in such situations. A ring light can be placed in front of you while you attend zoom calls. The soft light coming from ring lights minimizes shadows and makes you look your best. It is a good corporate swag item considering the fact that most meetings are now conducted online.
10. Planted Pots
A gift that lasts for a long time is a gift that will be cherished. Plants are symbolic of growth and prosperity. Give this green gift to your employees to let them know that they will grow and prosper while working at your company. Gifting planted pots to your employees is a responsible and thoughtful choice. It shows you care about the environment. Planted pots are also good corporate swag as the pots can be customized. There are many businesses that offer custom-made planted pots that can carry your logo and brand name.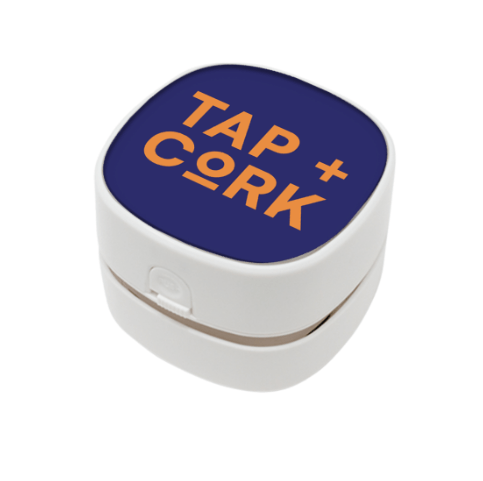 Top 10 Corporate Swag Vendors
Coming up with branded swag ideas is not an easy task. Similarly choosing corporate swag companies to do this task for you might also be confusing since there are a plethora of options available.
Following is a list of the top 10 swag vendors for the most innovative corporate swag ideas:
SWAG !! Corporate swag and branded swag items are part of any successful marketing toolkit.
Specifically, it's perfect for internal marketing, covering your workers in your team colors, whether with clothing like sweaters or t-shirts or items like wireless chargers or reusable straws. You're reinforcing the brand for your talented people, who–in turn–become brand ambassadors for your organization.
Branded swag items are also highly effective in cultivating goodwill amongst clients and prospects. They're leave-behinds that keep your brand top of mind, increasing the chances that someone will keep or start doing business with you.
However, it's necessary to point out that not all corporate swag was created equal. You often end up ordering it, and the whole process is messy. It's wasteful, the clothing doesn't fit, it's hard to store, and the list of headaches goes on.
Those pitfalls don't exist with SwagMagic., We're an industry leader in corporate swag providers. First off, view this helpful infographic to see how SwagMagic works, then we'll go over how SwagMagic is different.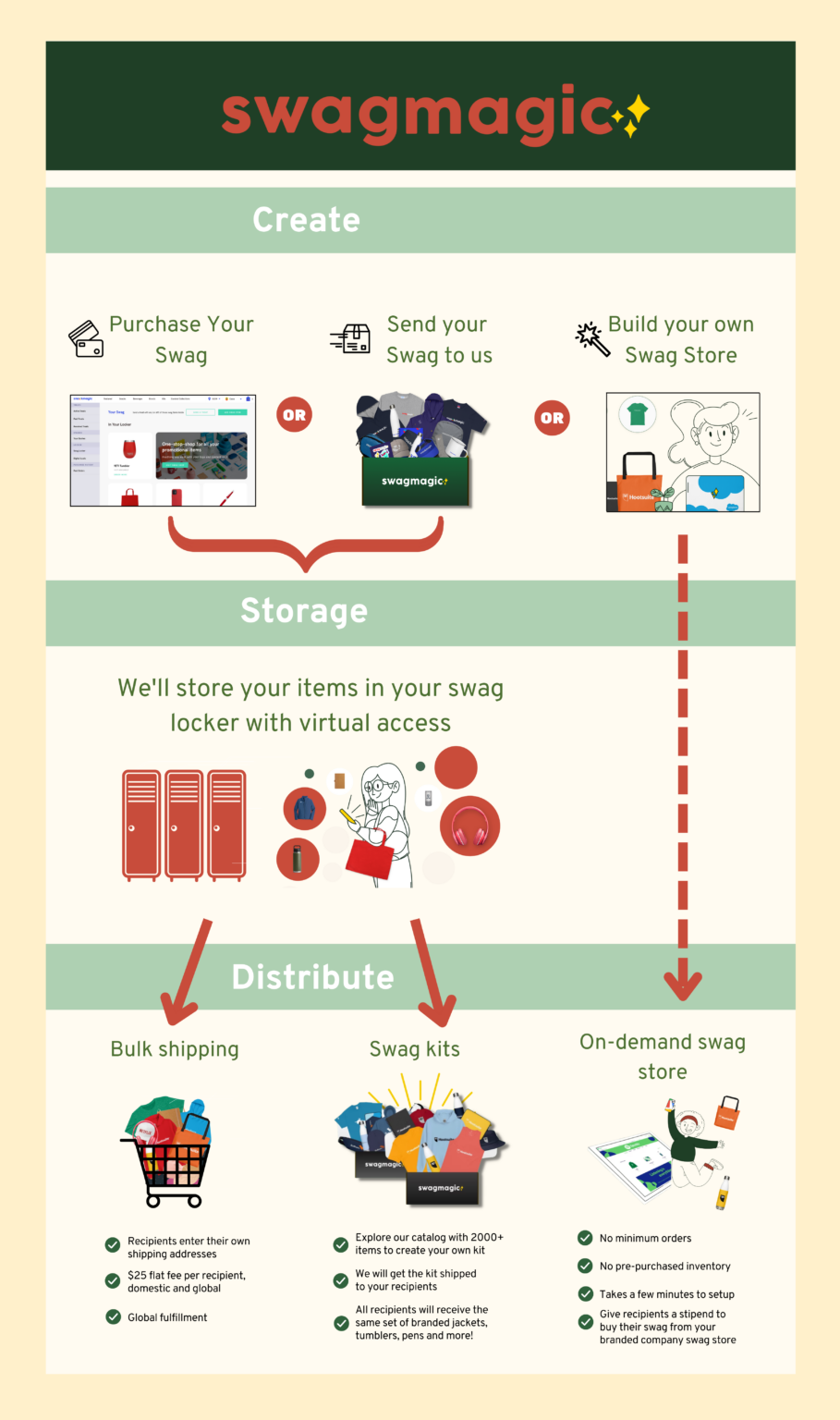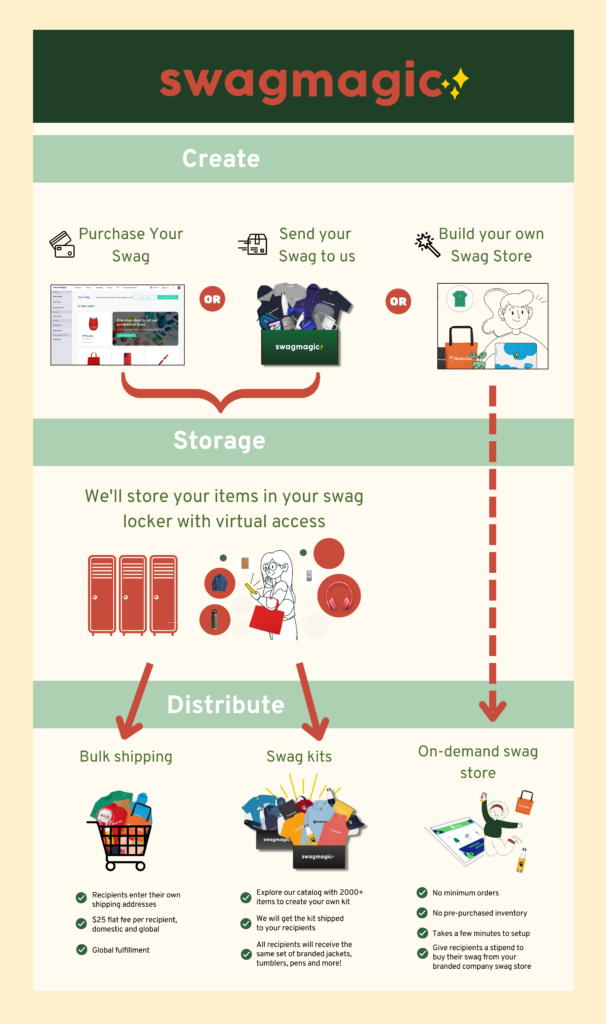 Here's what makes SwagMagic different than other providers:
You Won't Waste Any Branded Swag Items.
Did you know that 70% of swag gets wasted?
Wasting anything is terrible for the environment because it just ends up in a landfill when it didn't need to exist in the first place. Beyond that, purchasing something that gets wasted takes needless chunks out of your bank account.
Fortunately, SwagMagic lets you order as many items as you need and nothing more. Our on-demand products have a 1-piece-order minimum and in some cases as little as a 12-piece minimum.
You Don't Need To Chase People Around For Shirt Sizes Or Shipping Addresses.
One of the biggest letdowns with team-based swag orders is when you hand out t-shirts or sweatshirts expecting everyone to look sharp in their new threads, and half the shirts don't fit.
You probably tried to get everybody's size but hunting them all down was a hassle, so it turned into a guessing game.
Regardless of why your team ended up with the wrong-sized swag, the end product was a letdown.
Alternatively, gathering sizing information from clients or prospects can make your head spin–you don't have access to them as you do with your employees.
SwagMagic eliminates this headache because the recipients input their own sizes. As such, everybody looks sharp in their corporate swag, representing themselves as the in-sync well-oiled machine they've always been.
We just need your recipients' emails, and we'll collect their sizes. Also, we'll gather their shipping address, ensuring they receive their items.
You Don't Need To Worry About Storage.
The seemingly endless benefits of swag tend to evaporate when the storage room at the office is bursting with swag items and you don't have room for other equipment.
Suddenly, you're facing a space-devouring burden. Then, instead of gifting your branded swag items strategically, you're trying to get rid of them, offering them to anyone who'll take them.
Storage issues don't exist when you shop with SwagMagic.
First, as we've already discussed, we let you buy only as much as you need. Moreover, and even more conveniently, you can send additional swag to our warehouse. We'll store it and deliver it at your behest.
You Create Your Own Store
SwagMagic customers create their own swag store with their own corporate branding, which entails:
Choosing your products and uploading your designs
Using the same design with multiple products
Only designing once, uploading, then we apply it to your products
Accessing your store within a few days
Customizable designs that your recipients can make their own
Setting up your budget
Defining parameters for who can access the store
Learn more about creating your SwagMagic store by clicking here.
We Pick And Pack Orders For You
At SwagMagic, the logistics are on us. When you make your order, we locate it and obtain it from its location on your behalf. This is after we've provided you a proof for your approval. If you're doing swag kits, we take care of putting them all together and shipping them too.
The primary mission of SwagMagic is to make the swag-purchasing process as straightforward as possible for our clients. While we want you to have maximum customizability with your branded swag items, we want your involvement to end there before things get stressful. Thus, we do all the legwork.
SwagMagic: Keeping Your Corporate Branding And Convenience Top Of Mind
As a provider of branded swag items, SwagMagic takes pride in offering the most substantial return on investment when businesses partner with us.
Our catalog of 3000+ items is diverse, high quality, and bound to please. We'll deliver it globally in between 10 and 15 days–not 6 weeks.
SwagMagic will also consult with you to ensure you design the corporate swag that best fits your vision.
Want to learn more about what we're doing at SwagMagic? Request a demo today and get a complete picture of our on-demand swag service set to take your
Specializing in premium local restaurant dishes and confectionaries, SuperiorDishes allows you to send a treat to anyone, anywhere. Treats include fresh lobsters from Maine, cheesecake from NY, or Pizza from Chicago.
The premise of the offering is that the recipient can choose their own treatment while the organizer sets the budget. Superior Dishes is a perfect gift when you want to really impress clients, prospective clients, or employees who reached an important milestone.
3. Promodirect.com
This website has been manufacturing and distributing corporate swag for a long time and its experience allows them to serve its clients better. Promodirect offers a ton of products that can be given as corporate swag. They are an affordable business to deal with.
4. Swag.com
The buying and distribution process at Swag.com is streamlined and the products offered by them are the best ones in the market. They offer thoughtful and good quality swag that your employees and your customers would actually want to keep. Swag.com promises to work towards complete customer satisfaction through its services.
5. Caroo.com
Caroo is a business with a purpose. This website offers many interesting corporate swag items to give away to your employees or clients.
6. Plcprint.com
Plcprint offers branded apparel, branded merchandise, and different services such as corporate swag. It specializes in print and so you should head to this website if that is what you're looking for. One of the many interesting things offered by this website is cannabis packaging.
7. Everythingbranded.com
This corporate swag website has several categories for awesome corporate swag. From lifestyle products to essentials, this website offers it all. Some of its best corporate swag include stationery items, travel accessories, drinkware, and pet accessories. The range of unique products offered by this website makes it an attractive choice for businesses looking for creative corporate swag ideas. They have a feature where you can get an instant quote for the corporate swag you choose. They also have a separate category called 'Rush products'. These products are budget-friendly and unique.
8. Packedwithpurpose.com
This website offers an awesome quality of curated corporate swag. Packed With Purpose promises to come up with the best corporate swag ideas to promote your business. It curates gifts with handpicked products by their Impact Partners. Apart from corporate gifts they also offer gift cards. This feature allows your employees or customers to choose the gift they would like to have.
9. Swagup.com
This website for corporate swag claims to have awesome swag packs. It offers a wide range of products that are innovative and useful. You have the option to build a pack with different corporate gifts from the website. The pricing is pretty reasonable and there are no hidden charges. You can even send third-party items to Swagup and they will be included in the inventory you order from the website.
The website offers non-alcoholic beverages, charcuterie, snacks, and bar accessories. These gifts are a bit different from the ones listed on all other websites.
The website also allows you to make combinations of corporate swag products. You can choose to include glasses or decanters with a bottle of beverage for your employees to make the deal even sweeter. The process of redeeming gifts is simple and quick.
Also read: Team Swag Ideas
The corporate swag offered by this website is exciting and thoughtful, something your team will really appreciate.
We trust this run-through on the importance of corporate swag, 10 top ideas for what to actually get, and 10 corporate swag providers, gave you an overall understanding of corporate swag.
Now, that you're well-equipped with ideas and providers, feel free to request a demo with us here.