At SwagMagic, we love branded swag items. You might even say we live and breathe swag. We wear swag in our dreams, and if we could, we'd brush our teeth with swag.
All the same, we're not ignorant to the realities of different swag ideas. Too often, companies don't really see things through the recipients' eyes when doling out these branded materials. They seem focused on the gesture or sentiment instead of value or function.
It's all well and good to hand over a couple of stress balls, some mediocre pens, and ill-fitting t-shirts. Nobody will receive such gifts negatively, but they won't receive them positively, either. In fact, they'll probably forget about such items almost immediately after getting them.
So, how do you turn swag items into something more than a forgettable trinket that falls by the wayside? How can you use these gifts to harness your employees' skillsets and foster loyalty?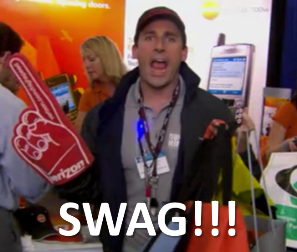 Typically, these offerings are promotional items you give away and don't sell. The idea is that company swag increase brand awareness and constantly reinforce your marketing message to employees or consumers.
We'd then be remiss in neglecting to discuss how pirates used swag to refer to their plundered treasure.
Now, we don't expect companies to gift their employees hunks of stolen jewels instead of branded swag items. Still, you can transform your swag from meaningless, ineffectual objects into something akin to branded treasure worth its weight in gold.
As corporate swag provider, making the most of your swag for employees requires that you don't gift it as a tickbox practice or afterthought. Instead, you need to consider your team's collective mindset and ask yourself what they'd actually find valuable.
Successfully finding the best items that guarantee a return on investment comes down to product research. Fortunately, you've come to the right place:
Branded swag items your employees will actually use
Two Reusable Reed Drinking Straws/Pouch Combo
Your employees want your company to help sustain the environment.
Speaking of which, these two reusable sy ensure your team members don't have to throw straws away. Also, a pouch is provided to ensure the straws won't get lost.
With this eco-friendly gift, suitable for cold and hot beverages alike, your team can avoid falling victim to throwaway culture. Plus, the customizable pouch can have your company's logo, text, or a mix of both for added brand recognition and positive associations with green consciousness.
Handmade Wooden Sunglasses – 1698 SERIES
A suave and stylish pair of sunglasses is always appreciated–much more than a cheaply made t-shirt or a stress ball that breaks after the fifth squeeze.
For one thing, sunglasses are a neutral accessory that can complement any outfit perfectly. On that note, your employees will feel an elevated sense of swagger (pardon the pun) with SwagMagic's Handmade Wooden Sunglasses.
Yes, these are high-quality, strong, and lightweight. But they're also fashionable, meaning your employees will actually want to wear them instead of tucking them deep into their desk drawer.
10W Wireless Charging Pad
The ideal branded swag item offers functional usefulness, like SwagMagic's 10W Wireless Charging Pad. 
With this piece of swag, your employees won't need to clutter up their work area with wires. They can drop their Smartphone or Android into the pad without a second thought. It simplifies phone charging, keeps workspaces tidy, and is one of those swag offerings that tell employees how thoughtful you are.
Go Shopper – Ruled
Our wood-pulp-constructed Go Sh
pper bag is–as suggested by its name–great for shopping. However, beyond that little bit of usefulness, it also offers inspiration. This is a writable bag that celebrates your recipient's love for lined paper with its printed ruled layout.
The giftee can fill the Go Shopper with motivational quotes, meaningful poems, and drawings, allowing them to express their creativity.
Apron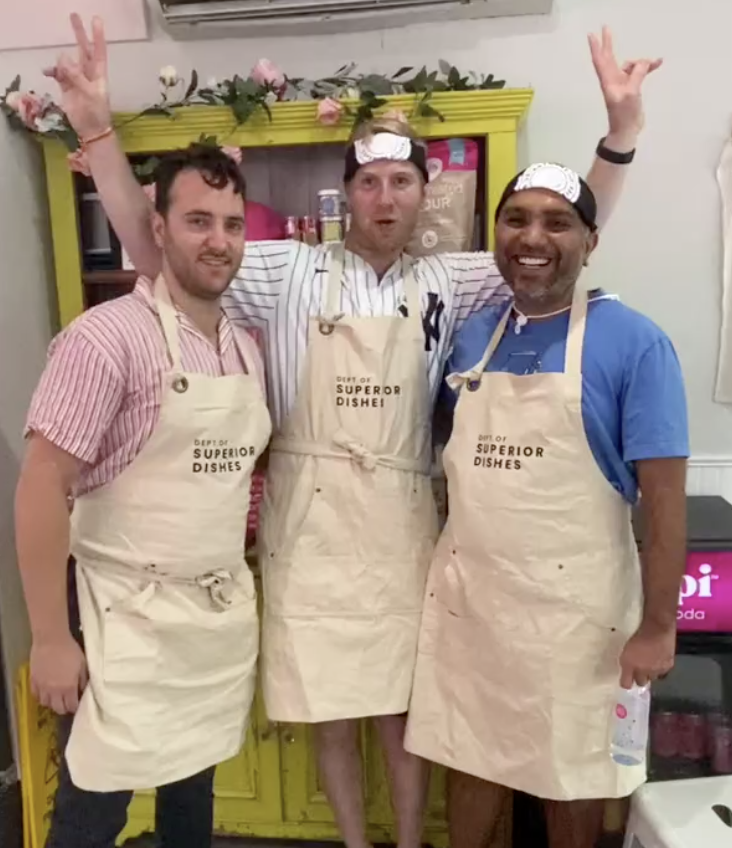 Some of the most personal, intimate moments occur in the kitchen. There's something unique about the peace and serenity, the aromas, and the anticipation when making a well-cooked meal.
Be part of that transcendent experience with your employees by gifting them a SwagMagic Aron embroidered with your branding.
It's Time To Purchase Swag That Sticks
Say goodbye to meaningless, forgettable swag that fails to impact your employees, and say hello to SwagMagic's brand-bolstering offerings that resonate with your team.
At SwagMagic, we streamline the swag curation process. You don't have to think much about it, nor will it cause stress. You merely need to build your swag bag or own snack box and let the good times roll.
You'll amass goodwill with your staff, who'll see you're willing to invest in them, down to the branded swag items you provide. From there, they'll put their best foot forward, no matter the obstacles in their way.
Peruse our swag catalogue and see what custom-branded swag works for your organization