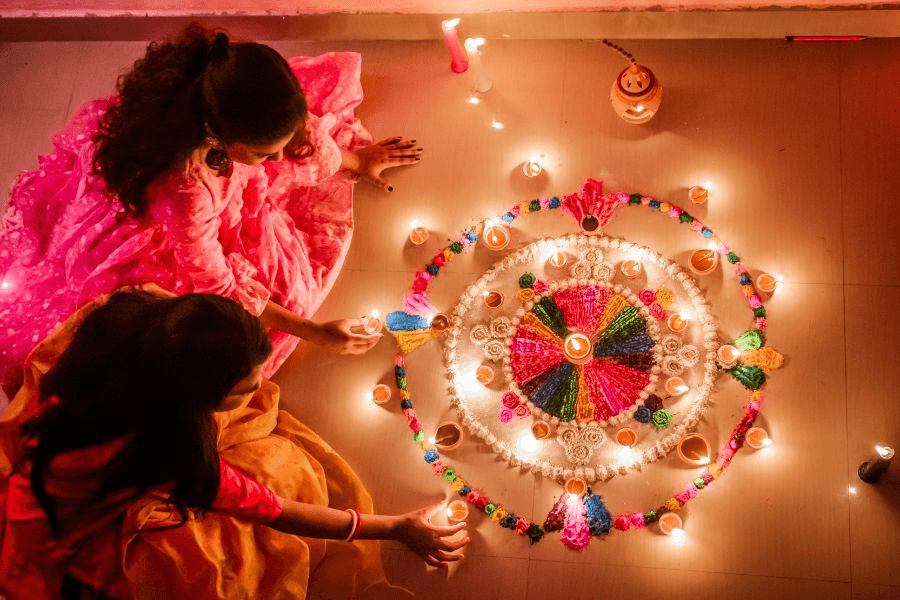 As the festival of lights, Diwali drew near, our office team was determined to come together and celebrate in grand style. With virtual and in-office team members and clients, we embarked on a journey to find joyous Diwali celebration ideas.
Diwali Celebration Ideas for In-Office and Remote Employees
Diwali Decor Contest: Encourage each department or team to decorate their workspace with Diwali-themed decorations. Give out prizes for the most creative, vibrant, or festive decorations.
Traditional Attire Day: Organize a day where everyone can come in traditional Indian attire. This can be a fun and colorful way to celebrate the festival and appreciate the diverse cultures within the company.
Rangoli Competition: Rangoli, a traditional Indian art form, can be an engaging team-building activity. Arrange for a competition where employees or teams can create their own designs.
Sweet Exchange: Sweets and desserts are an integral part of Diwali. Organize a sweets exchange where everyone brings in a traditional dessert to share.
Virtual Diwali Party: If your team is working remotely, consider hosting a virtual Diwali party. You could organize virtual games, and everyone can share their home decorations and traditional attire via video call.
Fireworks Display: If local laws permit, organize a professional fireworks display for employees and clients. Make sure to prioritize safety and follow all regulations.
Diwali Quiz or Trivia: Host a Diwali-themed quiz to test your employees' knowledge about the festival. This can be a fun and educational way to celebrate the occasion.
Gift Hampers for Clients: Send your clients a Diwali gift hamper with traditional Indian sweets, candles, and a handwritten note to express your appreciation for their business and partnership.
Diya Painting Activity: Organize a Diya (earthen lamp) painting activity where employees can paint and decorate their own Diyas. This can be a relaxing and creative outlet for your staff.
Charity Drive: Encourage the spirit of giving during Diwali by organizing a charity drive. This could involve collecting non-perishable food items, clothing, or other donations for a local charity. It can be a meaningful way to celebrate the festival and give back to the community.
Snack Gifting: Send out a snack gift basket to your employees and clients. This could include a mix of traditional Diwali sweets and savory treats, along with some international favorites. You could also consider including some healthy options. This small gesture can bring a bit of festive cheer to their homes.
Festival-Themed Swag: Create and distribute Diwali-themed swag among your employees. This could be anything from T-shirts with Diwali motifs to custom-made Diwali mugs, or even festive masks. It can serve as a festive souvenir and also an excellent way to foster a sense of unity among your team members.
We desperately wanted to encourage cultural appreciation, sharing Diwali celebration ideas with our employees, clients, and social media followers, as well as the significance of the festival, who celebrates Diwali, Diwali party games, Diwali party ideas, and the mouthwatering Diwali party food that we would make, with a few SnackMagic boxes thrown in the mix!
A corporate Diwali celebration was not unheard of, but our team had never thrown one that would be as large as the party we were planning. We wanted to ensure that we shared the story and significance of Diwali, so we held many brainstorming sessions for corporate Diwali celebration ideas.
We were thrilled to have Snack and SwagMagic on board, as we knew we could customize swag and food for our celebration on little notice, giving us time to iron out the details like location and times. Our celebration planes included our clients, so we knew we'd need a stellar social media outreach campaign.
There was much to be done!
The head of our marketing team, Sheena, was in charge of the celebration. She was nervous about the authenticity of it, so a mass amount of research went into the planning process. We couldn't wait to share what we'd learned with our client base and staff, hopefully educating others along the way.
Here's what our team discovered in our journey to create an inclusive, dynamic, engaging, authentic Diwali campaign and celebration.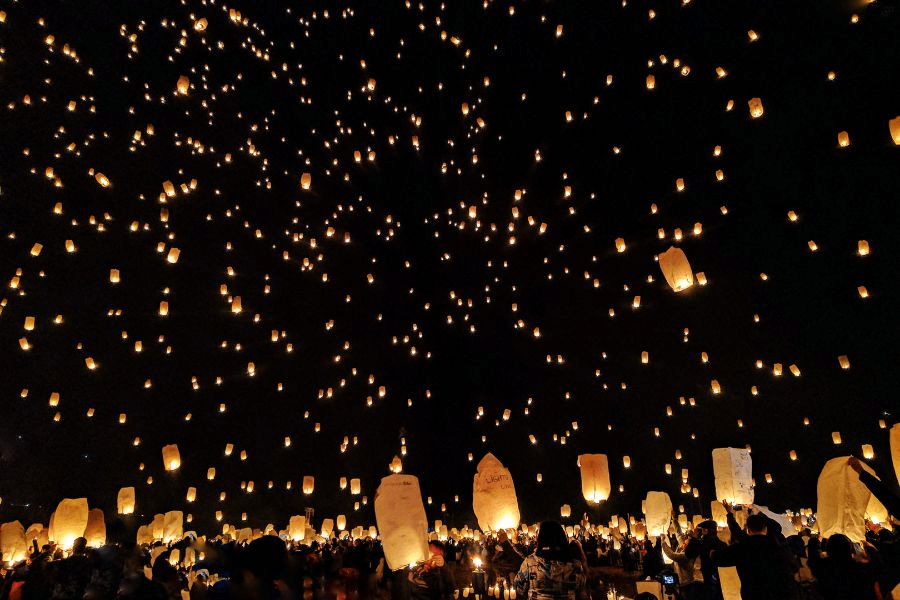 Diwali Story
Diwali symbolizes the victory of light over darkness and good over evil. It commemorates the return of Lord Rama from exile, as he defeated the demon king Ravana.
The Diwali story is an encouraging one, highlighting perseverance in the face of darkness. If you're wondering why is Diwali called the "festival of lights", it's because the lighting of lamps, candles, and decorative lights plays a central role in the celebration.
The word "Diwali" comes from the Sanskrit word "Deepavali," which translates to "row of lights." The lighting of lamps symbolizes dispelling darkness and inviting the light of knowledge, prosperity, and positivity into one's life.
During Diwali, homes, temples, and public spaces are adorned with countless lights, creating a dazzling spectacle. People believe that the radiance of these lights signifies the triumph of good and light. The lighting of lamps also holds religious significance as it welcomes the blessings of deities and brings prosperity to households.
In addition to lamps, fireworks are a prominent feature of Diwali celebrations. They light up the night sky, further adding to the festive atmosphere and enhancing the symbolism of eliminating darkness.
The name "festival of lights" perfectly captures the essence of Diwali, emphasizing the central role of illumination and the symbolic significance of light in this joyous celebration.
Who Celebrates Diwali?
The festival holds immense cultural and religious importance for Hindus, Jains, Sikhs, and some Buddhists worldwide, which we learned while researching who celebrates Diwali. Our office aimed to embrace diversity and celebrate with our clients and virtual and in-office team members.
While getting ready for Diwali, our office team quickly realized the significance of including all team members in the celebration, regardless of their physical location. We organized a virtual Diwali party where everyone could connect and participate remotely, clients included, sharing all about Diwali in English. It was a huge success.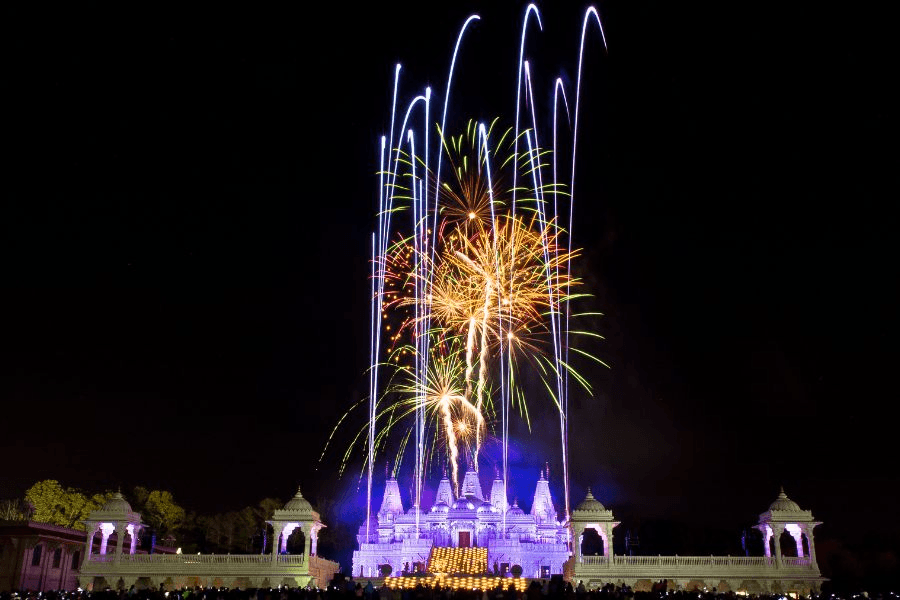 Diwali Party Games
Part of our plan was to incorporate Diwali games online while staying true to Diwali party games and our theme in general. We needed Diwali games for big group and Diwali games for the office party, and with our matching t-shirts from SwagMagic, we couldn't wait to take photos for memories and marketing purposes!
Here's what we played:
Diwali Treasure Hunt: To engage the team in a fun and interactive game, we organized a Diwali-themed treasure hunt. Clues related to Indian culture, mythology, and Diwali traditions led our participants on an exciting adventure. The treasure hunt was a bonding activity, bringing our team members closer.
Diwali Quiz: A quiz challenged team members' knowledge about the festival. Questions about its history, rituals, and significance added an educational element to the celebration. Prizes were awarded to the top performers, leading to healthy competition and enthusiasm.
Diwali Party Ideas
It was important to us to include Diwali party ideas that felt accurate and fun, particularly for Diwali activities for adults. With our Diwali party activities planned, it took us only a short time to define what is a Diwali party. We didn't want to encourage Diwali competition ideas, so we stuck to the basics.
Decorations: Our office was adorned with vibrant colors, twinkling lights, and beautiful rangoli designs. 
Light and Fireworks Show: To capture the essence of Diwali, our team organized a mesmerizing light and fireworks show. In compliance with safety regulations, we ensured a controlled environment for the fireworks display, mesmerizing virtual and in-office attendees.
Diwali Party Food
Of course, our party would only be complete with Diwali food, and we'd diligently researched Diwali party food ideas! We had:
Sweets: No Diwali celebration is complete without indulging in traditional Indian sweets. Our team relished mouthwatering delicacies like gulab jamun (deep-fried milk dumplings in sugar syrup), kaju katli (cashew fudge), and barfi (milk-based sweet squares). These treats added a delightful touch to the festivities.
Savory Snacks: We also enjoyed an array of savory snacks like samosas (fried pastries with savory fillings), pakoras (deep-fried fritters), and chaat (a delicious street food medley). These flavorful bites provided a burst of flavor and satisfied everyone's taste buds, making the ideal Diwali party food menu.
SwagMagic and Our Diwali Celebration
SwagMagic and SnackMagic were incredibly helpful in our Diwali celebration. They gave us the extra snacks and high-quality swag we needed to help everyone feel like a team. We walked away with a whole new cultural education, and our team was closer than ever!